Principal's Message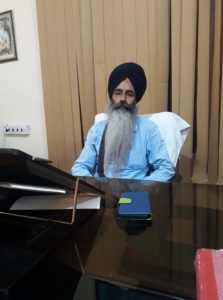 To the students of Guru Nanak College, Moga with cherished dreams my message is that this is only the first step,there is lot to follow, much more to be achieved.Greater it is to dream,but greater still is to strive. Hard to make it a REALITY. Visualizing my college at the zenith of achievement,beholding her jewels,let us all who are associated with GNC resolve this day that we will never allow any evils of communalism, untruth or intolerance triumph over the precious lives of the college who are entrusted in our hands with great faith and assurance I want to see GNC soaring high in all forms and aspects by providing them a solid ground to build their precious career and further to enable them to face the competitive world without any fear or hesitation an feel proud to be a part of GNC . May God bless you abundantly.
President's Message
A mirror to the past and a vision for the future." A reminder of things past, of successes, hopes and dreams fulfilled and a promise of even better things to come". This is what hundreds of years of functioning is all about. Shiromani Gurdwara Parbandhak Committee, Sri Amritsar (SGPC), an apex body of the Sikhs residing all over the world, is a religious charitable and humanitarian organization. Besides managing the Sikh shrines, it runs a number of educational institutions, charitable hospitals and homes for the physically/mentally challenged people. Though the primary objective of the SGPC is religious, it also performs multidimensional functions for inculcating high ethical values, humanistic outlook, healthy habits and scientific temper among the community through its educational institutions. 
"Comtemplate & reflect upon knowledge and You become a benefactor to others".